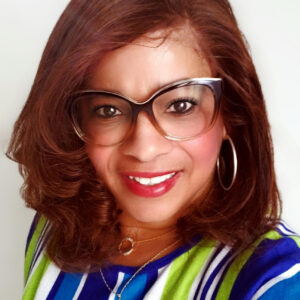 ​Successful social media marketing is a "numbers game", however, it is more than just getting "likes" and "shares", it is about being social and creating a community of engaged audience members.
Antionette Blake, who is more commonly known and widely recognized as a multi-award winning blogger is also a Branding and Social Media Communications Manager, Educator and Professional Speaker. Antionette hosts two a weekly Podcasts, "Delaware Blogger Podcast" and "What's Up Next?"  Antionette is also a panelist on the monthly Co-Marketing Masters TV Show.
As the owner of A.Blake Enterprises, Social Media Management & Consulting since 2015, she works with business owners and organizations on strategies to help them broaden their brand and expand their exposure online.  Assisting them in creating and curating content for their targeted audience and working to ensure that they are engaging on the correct platform with consistency and creativity. She is also an Ambassador for the New Castle County Chamber of Commerce.
Antionette is recognized as a Subject Matter Expert (SME) and has presented on topics that include, Social Media Marketing and Blogging designed for business owners, students, management and the everyday user.  Additionally, her expertise has led her to being a an Adjunct Instructor at Delaware Technical Community College teaching others how to get found by maximizing their social currency. She is a sought after, workshop facilitator, who has partnered with The Delaware Financial Literacy Institute, Delaware Economic Development Office, Milford Chamber of Commerce, Delaware Small Business Chamber of Commerce, New Castle County Chamber of Commerce, Independent Resources, Inc., IAAP, Dover High School, YWCADE, Seeds of Greatness, Women's Business Center as well as the Public Libraries in the state of Delaware.  Antionette was recently recognized and received the Entrepreneur of the Year Award, by the men of Psi Iota Chapter of Omega Psi Phi Fraternity, Inc. in Dover, DE.
Antionette collaborates with major brands in creating product reviews, sponsoring contests/giveaways and providing social media coverage at local events.   She is the online content creator of two blogs, DelBlogger and DeDivahDeals.  As the go to brand expert, Antionette is the Brand Ambassador for Drive Shop USA,Verizon Wireless, Depends for Walmart, and Jennie-O Turkey amongst others.
She has been featured in the following: Women's Day and Parade Magazines, the September edition of Delaware Today Magazine as one of "36 Most Intriguing Delawareans"; online at Technical.ly.com; on WHYY Friday First, Delaware Way, Heart Ministry Radio and most recently in the The Delaware Business Times.
She hosted a segment on MadHouseTV in Long Island and at a subsequent event in which WWE Superstar Ron "The Truth" Killings was announced as a Brand Ambassador for AAU Global Media Production Group.